What a mighty time has been had by all at the best winter festival around. Individually we had a really busy time with Breabach, Treacherous Orchestra, Ross & Jarlath, Andy Thorburn, Laki Mera, Bella Hardy and others as well as having some impromptu rocking tunes throughout the festival. As well as this Calum fronted the underground-unofficial-festival-fringe 'FOLKY TOWN' which was a storming success – featuring acts such as Babelfish, DJ Dolphin Boy, Angus Binnie, Laura-Beth Salter & ourselves. There was also some lovely tunes, tasty drinks and some fantastic Haggis provided by celebrity-folky-chef Ross Ainslie! Kudos to the Flying Duck for putting up with a load of drunk folkies three times a week thoughout January! See what Jennie Macfie from STV thought about the night – http://entertainment.stv.tv/music/celtic-connections/212262-folkytown-provides-fringe-alternative-to-celtic-connections/
Man's Ruin managed to fit in a couple of performances throughout the festival in additional to Folky Town. We hit up the festival club on the last Thursday then swooped straight into the Jury's Inn to play an acoustic set until 2am (stay tuned for more acousticness to follow, remember this phrase – 'liquid groove'). The next day we set up shop at the Showcase Scotland Trade Fair to punt our wares (as well as some pink and yellow Man's Ruin themed cocktails). It was great to meet and chat with delegates from all over the globe and hopefully some nice things will come out of it. Stay Tuned!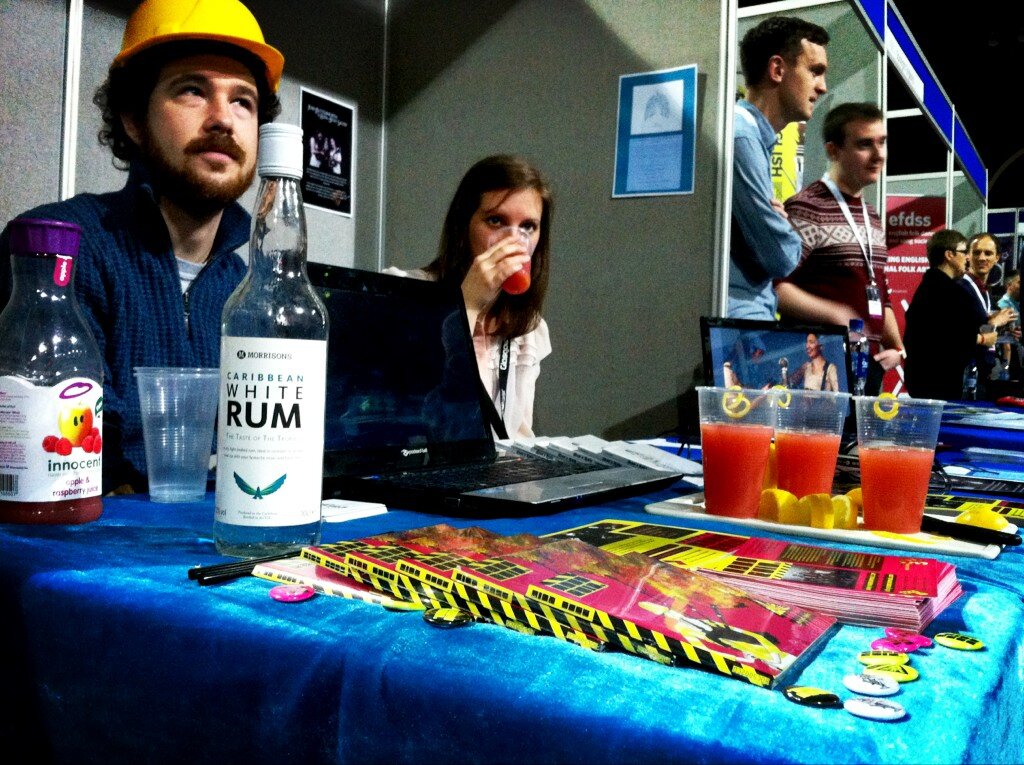 And now, we reckon theres time for one more tune at the Flying Duck before the festival finishes tonight. It's been great, but a bit of rest will be welcomed. We get stuck into some more rehearsing this week, new material is on the way. Can't wait!!
All the best
Remember to follow us on twitter @mansruinmusic & Facebook
MR